Artificial lawns supply green without minimum maintenance. But no synthetic turf is 100% maintenance-free. Here are 3 artificial lawn supplies you must have. Seriously, your life depends on it. Well, not really. But these artificial lawn supplies certainly make owning an artificial lawn much more enjoyable.

No-Trench Edging
"I just love the dig trenches and break up rocks," said no one ever. Conventional artificial lawn installation installs bender board edging as the last step.
What a pain. If you don't trench deep enough, the lawn creeps, the edging slumps, and the neighbors wonder how your great-looking synthetic turf went downhill so fast.
Your first must-have artificial lawn supplies come into play when you begin turf installation. Flexible Wonder Edge artificial turf edging nails into place at the turf perimeter before the installation begins.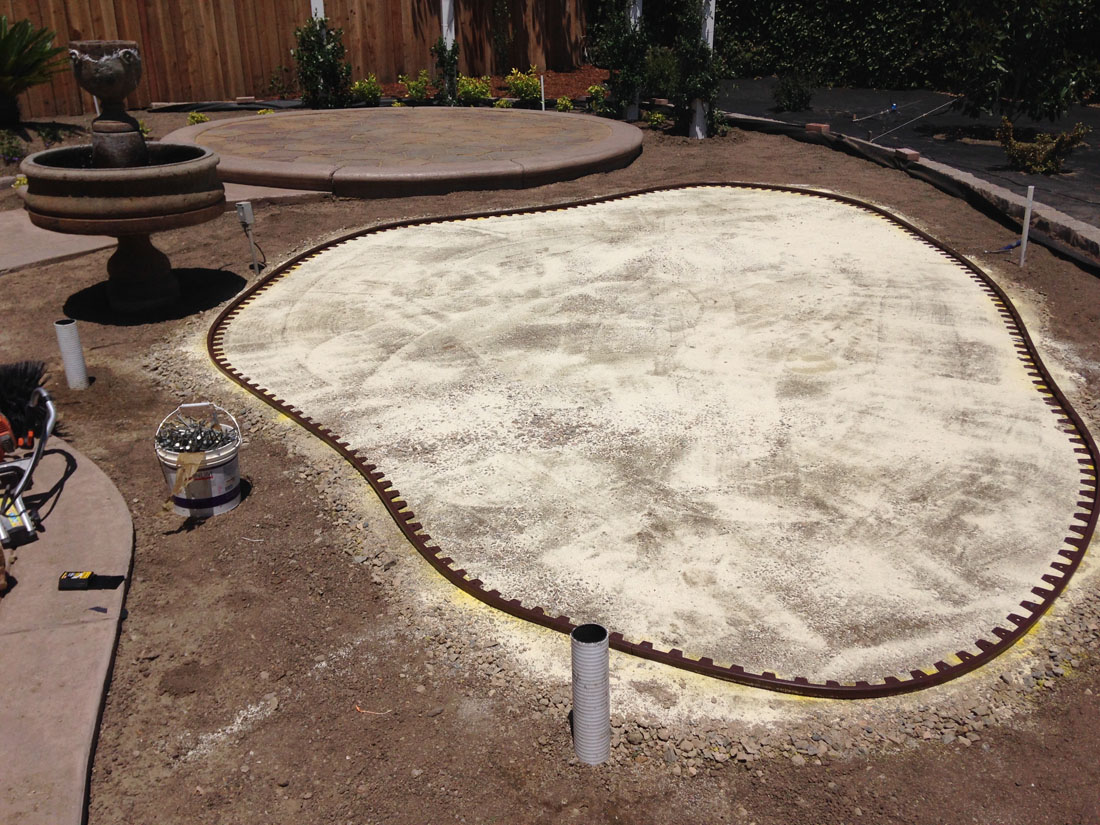 No trenching or digging is required. Just nail the Wonder Edge in place at the perimeter edge once the base is compacted. Because you use regular turf nails, no extra supplies are needed.
You can't live without Wonder Edge if you want your edging to install in about 10% of the normal time it takes to trim with bender board. As a bonus, Wonder Edge artificial lawn border will never creep on you.

Garden Hose
The humble garden hose is another one of those artificial lawn supplies you'll use for years. Use your garden hose to spray down pet urine, wash away spills, and give dust and debris the heave-ho.
A garden hose with an adjustable sprayer attachment is even better. Use a strong stream to dispatch dog pee and a gentle spray to rise away fine dust and debris. Get a nozzle with a flat spray attachment and you can even spray away small leaves and twigs.
If you use your artificial lawn for entertaining, you'll inevitably encounter food and beverage spills. Once the party is over, just pick up any food pieces, and spray the turf down. You'll easily wash away the sugar from drinks and salt from snacks.
Cleaning everything should be this easy.

Leaf Blower
Even if you don't deal with large quantities of leaves each fall, you'll find a leaf blower invaluable in maintaining your artificial turf.
Use the leaf blower to remove twigs and small branches, leaves, and other debris.
When there's a drought, it's much more eco-friendly to remove small debris with a leaf blower than with a stream of water.
Use your leaf blower to remove debris from between the blades of your turf.

Start With Essential Artificial Lawn Supplies and Finish Strong
There are loads of other artificial lawn supplies on the market. You can find enzymes to help neutralize pet waste and rakes to fluff up turf grass blades.
Start with durable and easy-to-install Wonder Edge artificial turf edging, then grab a hose and a leaf blower to start.
From there you're off to a strong start to a low-maintenance lawn.