Are you walking away from walking on natural grass? Ditching real grass for a fake lawn eliminates the headaches of weeding, feeding, mowing, and watering. That's awesome. But just like with real grass, fake lawns need something that delineates turf from walkways or planting beds. What to do? Check out these 3 fake lawn perimeter ideas to get a laugh and get a real practical recommendation.
Little Flags
Previously, we floated fake or real flamingos as a quirky fake lawn perimeter idea. Turns out some people think flamingos as a lawn perimeter is a tad on the tacky side.
Okay, then how about little flags?
Show your patriotic spirit by lining your fake lawn with little American flags. Or show your support for Ukraine by lining your artificial turf lawn with Ukrainian flags. You can get flags from almost any country over at Wal-Mart. Find flags from Azerbaijan to Uganda there. Seriously!
Afraid of what the neighbors will think? Then use a mixture of American and Ukrainian flags.
Whatever flag you fly, buy a ton of them. At only 4 inches wide, you'll need about a truckload.
Sentinels
Real or imaginary, sentinels provide a twofer. They create a perimeter for your fake lawn and serve as guards as well.
For the organic approach, line your yard with meerkats.
They do tend to line up naturally and squeal when danger presents itself. Of course, you'll need to feed them and clean up after them. Living sentinels might not work.
But how about sentinels from the world of fantasy and imagination?
Nobody is going to venture onto a fake lawn lined by real-looking Sasquatches. Well, as real looking as we imagine a Sasquatch to look. At least you won't need to feed them.
Don't forget gnomes! Gnomes are making a comeback for some strange reason. But hey, at least they won't poop like the meerkats.
Now the Sasquatches scare the pants off any intruders while they hold the turf in place. You won't say the same for the gnomes.
Wonder Edge Fake Lawn Perimeter
Why not just use Wonder Edge? Wonder Edge really tops the list of fake lawn perimeter ideas. No, it's not whimsical or fanciful.
The only thing magical about Wonder Edge is how quickly it installs. Where benderboard requires hours of backbreaking digging and trenching, Wonder Edge goes down before the turf.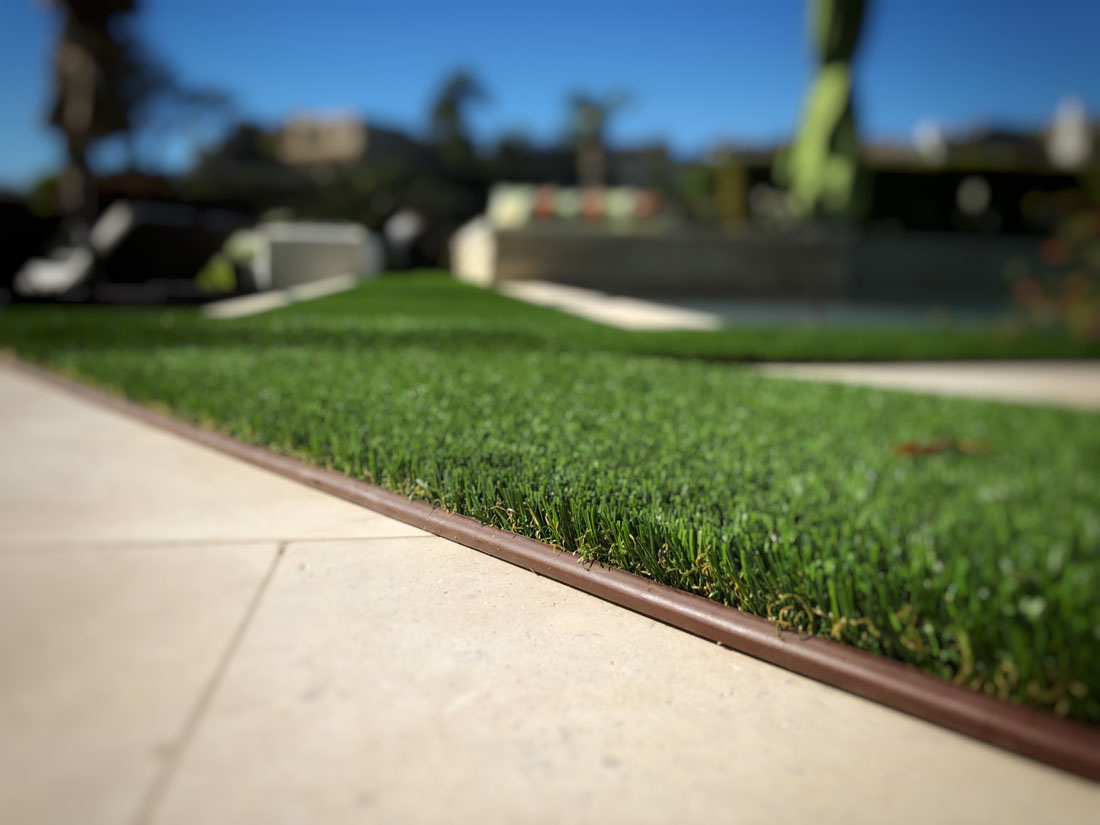 Simply nail this fake lawn perimeter in place before you lay the turf. Lay and seam your turf, rough cut the edge, tuck in place, and nail to secure.
Easy, peasy, and no meerkat poop involved.
Then hang your flag from a pole and send the gnome to the porch steps. As for the Sasquatches and meerkats? You're on your own there.