If you have fake grass, your maintenance is easy. No mowing and no watering or fertilizing. But that doesn't mean fake grass is maintenance-free. Nope, you still have to put in a tiny bit of effort. Whether your fake grass supplies a pet lawn, a putting green, or just a bit of easy-care green, here are 3 fake grass accessories that fall into the must-have category.
Wonder Edge Edging
No fake grass install can be counted complete until edging is installed. Now, once upon a time that meant putting down bender board. Man oh man what a hassle. Bender board requires back-breaking trenching and digging.
Wonder Edge makes achieving a smooth, finished edge easy. You never dig or trench with Wonder Edge.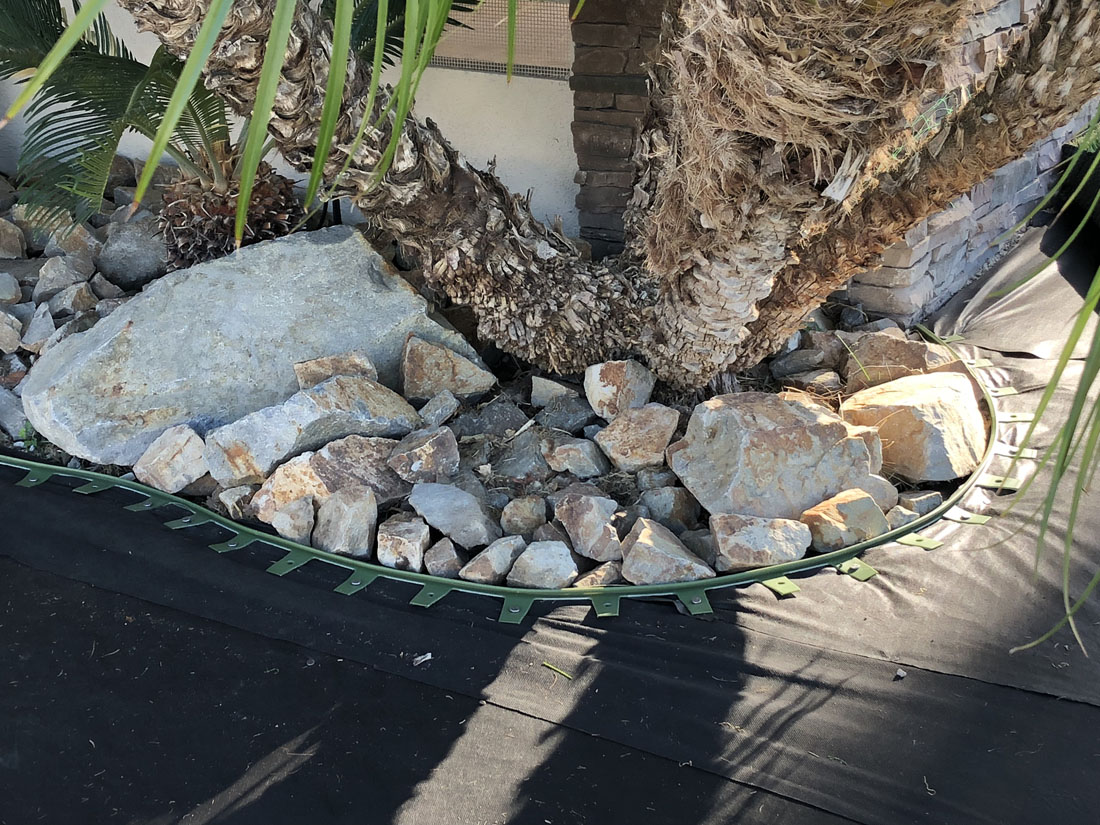 The ingenious design goes down first. That's right, you install the fake grass accessories before the fake grass. Maybe the grass is just accessorizing the Wonder Edge edging!
Seriously, once the subsurface preparation is complete, simply nail Wonder Edge fake grass edging down using traditional turf nails. Then come back and rough cut the edge.
You don't need a finished edge on the turf material because the edge just tucks into the Wonder Edge slot.
The result appears far more finished than bender board. And it will stay in place with no edge creep either. Notice the clean line the Wonder Edge creates between the decorative rock and the fake turf grass?
Fake Grass Rake and Broom
No, the rake and broom aren't fake – the turf is! The final two fake grass accessories are familiar to anyone that's ever had real grass.
They are an artificial turf rake and a sturdy push broom to make keeping the turf clean much easier.
Think of your artificial turf like a carpet for the outside. Inside your house, you have accessories like vacuums and mops to keep the floors clean. Well, outside you need fake grass accessories to keep the turf clean. You can't let organic items like leaves and twigs linger on your turf. With natural grass, these organic items break down. But, with fake grass, they just make a mess.
Thanks, Bella Turf for the demonstration!
You don't need a special rake, a good garden rake will do the job. But, if it makes you feel better, buy an artificial turf rake. You rake away to remove debris.
Running the push broom over the surface of the turf stands the blades back up.

Fake Grass Accessories are the Real Deal
There's nothing fake about the results you'll achieve by using these 3 fake grass accessories. You can even toss in a simple garden hose and consider yourself armed to the teeth.
Keeping your turf looking great simply involved protecting the edge so it doesn't fray or shift and keeping the surface free from debris and dirt.