From petting greens to pet turf, artificial turf is the star of the show. But the artificial grass border plays a supporting role. And it's got to be versatile because it has many roles to play. It provides a pleasing, finished edge for the turf, holds turf in place, and stabilizes the substrate.

Artificial Grass Border for Stability
When your artificial turf is held in place with the right border, the entire installation is more stable.
The substrate is held in place because the artificial border repels root intrusion from real grass, trees, and shrubs. Root intrusion provides a means for substrate material like aggregate, sand, or zeolite to escape.
Holds Turf in Place
Here's one role where Wonder Edge really shines. It's an Oscar-worthy performance.
Wonder Edge artificial grass border gives you a way to secure the turf to the ground and secure the turf to the border.
See with Wonder Edge, you install the border with the same nails you use to install the turf. Convenient holes are integrated. Here, take a look.
How's that for American ingenuity?  In addition, there is a slot incorporated in the edging to hold the rough cut edge.
That speeds install time because all you need to do is make a rough cut on the edge and then tuck the edge into the slot with your knife.
Between holding the turf nails and edge slot, your artificial turf isn't going anywhere. It will continue to take center stage in your landscaping.
Edges Finished to Perfection
Wonder Edge eliminates ragged and unfinished edges. Whether you install on hardscape or traditional landscape, you get perfectly finished edges.
Want the contrast of black turf edging and green? There's a Wonder Edge for that!
You can use Wonder Edge to delineate  between turf and flower beds, turf and walkways, turf and tree wells.
No matter the edge, Wonder Edge makes it clean. The turf stays in place and other landscape materials are held back.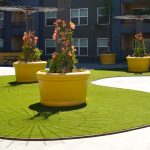 If you need a transition between turf and hardscape, Wonder Edge is up to the job.
On hardscape surfaces, it's ADA compliant when installed according to directions.
It's a perfect finish to a perfect artificial turf installation.
Cast Wonder Edge
When it comes to your next artificial turf installation, no matter the star, cast Wonder Edge in the supporting role.
You will install faster and easier. There's no trenching or digging.
You will get better results. Turf and edging stays in place.
You'll get rave reviews.  Customers and installers love the variety of color options and the smooth finished edge.