Your backyard putting green supplies hours of endless fun and frustration. Fun when that putt makes you feel totally in control, frustration when the next putt doesn't go so well. Whether you installed your putting green yourself or paid to have it put in, there's no need to pay someone else to keep it looking great. Here are 3DIY putting green supplies you need to keep your patch of green looking great. Brought to you by Wonder Edge, the DIY putting green edge that speeds installation.
Personalized Pin Flags
It's your green and you'll putt and chip if you want to! Make your mark on your putting green with personalized pin flags.
Companies like ReadyGolf offer a variety of custom and personalized pin flags. Sure you can settle for blue, red, or green but why should you?
There are flags that sport your name or any other message you want. Do a little searching and you'll find flags that honor your military career (semper fi!) or flags that combine your love of racing.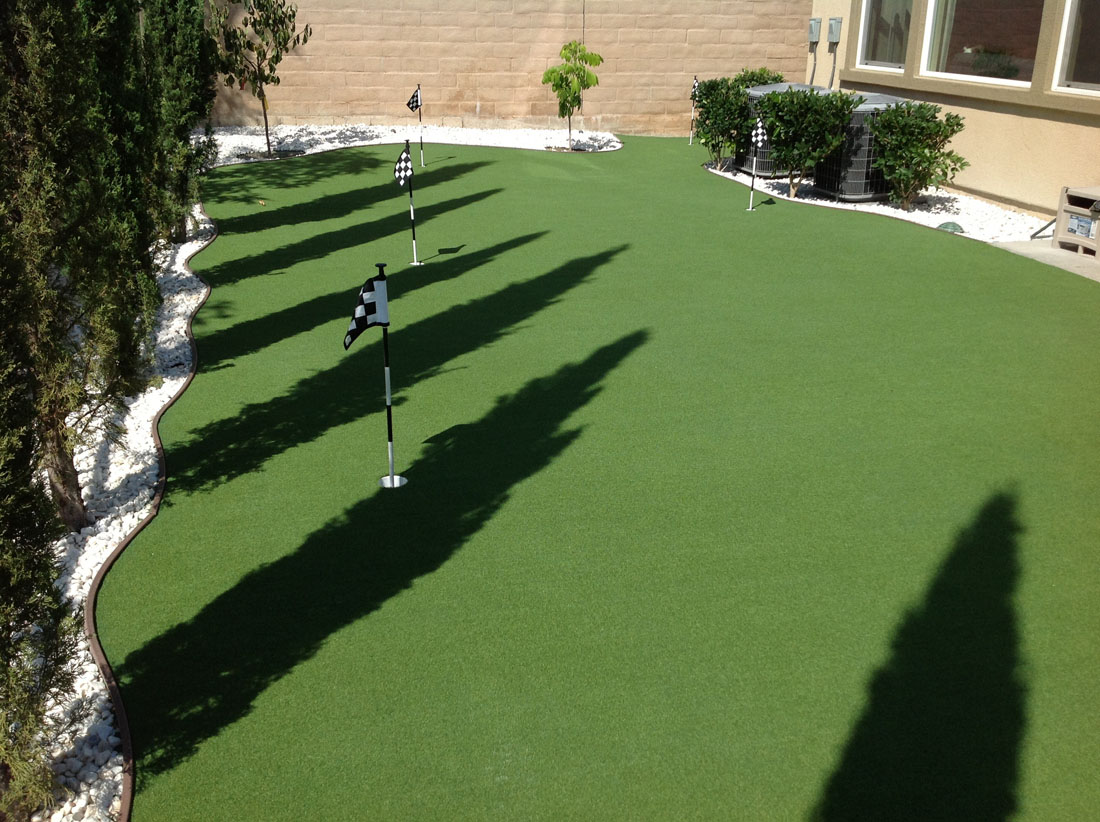 Traditionally checkered flags on a golf course are used as signals when the course contains blind spots. A flag in place means all clear, when the flag is down, golfers to the rear know to hold their shot. You won't find blind spots on this 5 hole DIY putting green, but the checkered flags can't be missed.
The Humble Garden Hose
Most people are surprised to discover that the most invaluable of all the DIY putting green supplies is the run-of-the-mill garden hose.
Use your hose to rinse down your putting green. Dust, pollen, and other airborne contaminants settle on your green. Not only is it unsightly, but it's also unhealthy to breathe that junk while you practice your putt.
In just a few moments, a quick spray down with the garden hose removes the dust and debris and restores your green to its original pristine green color. And it rinses away any pet or pest urine as well.
Cup Covers
Want to keep leaves, dust, debris, and curious rodents out of your putting green cups? These covers are the easiest DIY putting green supplies you will ever use.
Just pop them in your cups and they keep everything from rain to rodents out of your ball cups. Everyone knows that chipmunks can't dig through artificial turf, but that doesn't mean they won't explore your cup hole in search of snacks.
DIY Putting Green Supplies Finished Edge
This collection of DIY putting green supplies was brought to you by Wonder Edge. If your putting green doesn't have Wonder Edge, you don't have the best possible edge.