Well, you finally decided to ditch the maintenance woes and hassle of real turf. Out with the sod, grub worms, fertilizer, and water hose. Good idea!  That fake lawn will always look good in any season. It won't go brown from lack of water, it won't wilt in the extreme heat or cold, and you'll never need to mow it. It's going to look great. But a great looking patch of fake lawn deserves a great looking fake lawn perimeter to give it a finished look. Have you given any thought to that? If not, check out these fake lawn perimeter ideas to inspire you.

Flamingos
Who doesn't love the whimsical look of flamingos? Real or fake, you could use flamingos to line your fake lawn. Of course enticing live flamingos to stand in a row at all times will be a challenge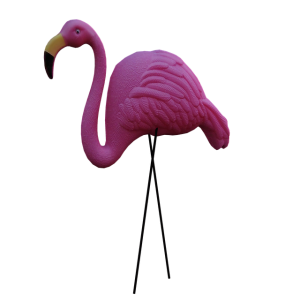 . And you will need to feed and water them. If you wanted to feed and water living things, you probably should have just kept the sod in place and cared for grass. At least grass doesn't poop.
So between live and fake flamingos, you would be better off with fake flamingos. You can get a set of 2 for about $30 over on Amazon. Of course they aren't wide, and you'll probably need a truckload of them. That's going to get expensive.
In addition, if you are in a windy area beware. The Amazon listing advises not to install in open areas subject to wind. Guess they aren't very durable. Flamingos as a fake lawn perimeter may be a flawed idea.

Timbers or Bender Board
Okay, if flamingos are out, what about more traditional products like timbers or bender board? Landscape timbers are popular for traditional lawns. They bring natural beauty and you might want that for your fake lawn. But they also have their own problems. For one thing, timbers come from trees and trees tend to grow upwards. That means for the most part, timbers are straight. Of course they aren't perfectly straight (nature seems to abhor a straight line) but they are fairly straight. And they are rigid. That means getting timbers to outline a fake lawn perimeter that consists of curves is hard. It takes lots of man hours to cut and fit timbers to follow the graceful curves you incorporated into your design to make it look natural. So timbers are out.
What about bender board? It's been used as a fake lawn perimeter for years. The only problem is getting it down. Bender board requires trenching. That's more man-hours and hard labor added to the job. And the idea of that fake lawn is to cut down on hard labor, right? It also doesn't hold the sub base in place. But neither will flamingos or timbers. So we won't hold that against it. Will anything work?

Wonder Edge is the Premier Fake Lawn Perimeter Product
The best of all fake lawn perimeter ideas out there today is Wonder Edge. This product beats flamingos hands down, live or fake. It is reasonably priced and can stand in the wind, rain, snow, and sun. Those flamingos will fall down on the job, Wonder Edge will not.
Wonder Edge is flexible. Unlike landscape timbers, it bends and curves with your design. It can also be installed on hard surfaces. Can't say that for flamingos. It is light-weight. Much easier to carry than landscape timbers for sure. And termites won't infest Wonder Edge.
Unlike bender board, Wonder Edge installs in minutes. It doesn't require trenching or digging and it will hold your sub base in place. It installs so easily, you'll be enjoying a cold beverage and your fake lawn in no time at all. As a bonus, it provides a slot to tuck your rough cut edges. Just stake and tuck and you're done with it. Wonder Edge is probably the best of all fake lawn perimeter ideas going around the internet today.