Just because a landscape has artificial grass doesn't mean that the remainder of the landscaping will be artificial as well. Natural trees and shrubs complement artificial turf. But artificial turf doesn't provide the best environment for growing plants. That's why it's important to create wells and border beds to provide the right growing environment for trees and shrubs. But creating a border between the artificial turf and the natural materials can be a problem. Luckily, a low profile artificial grass border solves the problem by containing subsoils to protect the artificial turf while providing a space for the plant to live and grow.

What Plants Need
Trees and shrubs need access to sunshine, water, soil, and oxygen. When you install artificial turf around trees and shrubs, you cut off access to water and oxygen if you bring the turf to the tree trunk. Those roots will suffocate without oxygen in the soil, and you won't have efficient transfer if the soil around the tree is covered.
By leaving an area up to the size of the drip line (where branches extend and drip water in the rain) uncovered by the artificial turf, you've got a place to easily apply mulch, water, and fertilizer. Just what the plant needs!
What Artificial Turf Needs
Whether its a yard, putting green or swale, artificial turf has needs too. It needs to be hosed down from time to time, pet waste removed, and deodorized if odors are a problem. Artificial turf is low maintenance once installed. That's why its so popular.
But, it has very specific needs when it is installed. The subsoil and base must be properly prepared and compacted. Whether you use 2 or 3 inches of base rock and soil under the turf, you've got to have a way to keep it in place. Artificial turf needs a border.
Artificial Grass Border Keeps Natural Plant and Synthetic Turf Happy
The Wonder Edge low profile artificial grass border keeps plants and artificial turf happy at the same time.  During the turf install, create a well around each tree. Oxygen, water, and fertilizer can make their way to the roots. The plant will thank you. So will the property owner. No one likes a dead plant, right?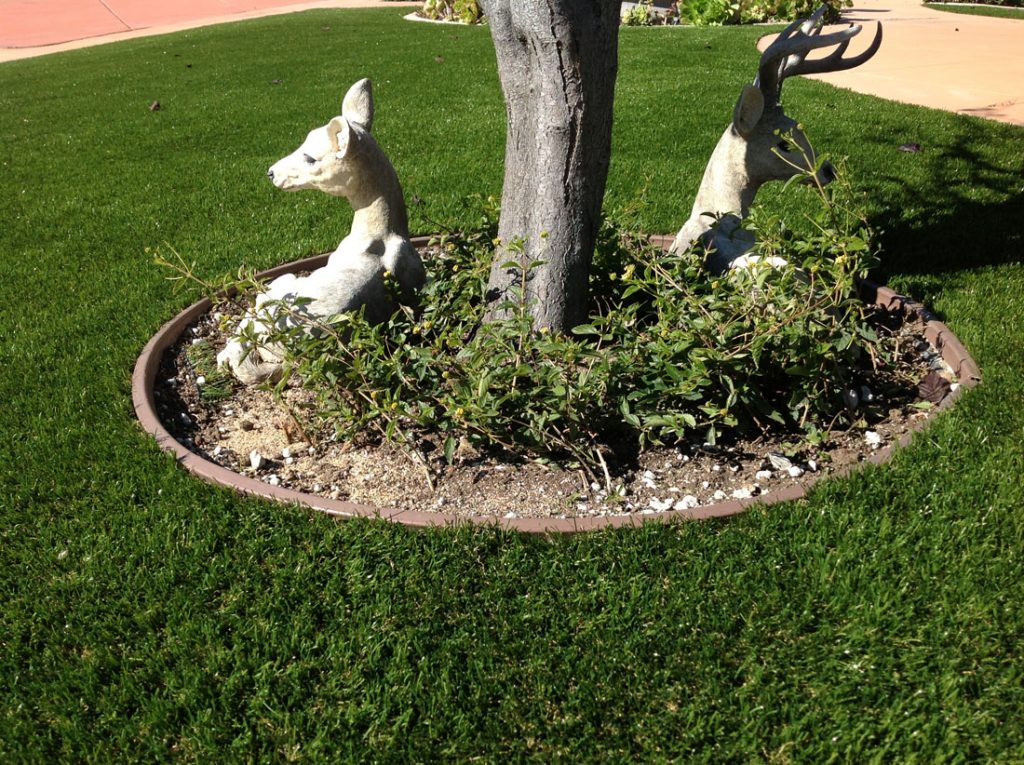 The artificial turf will thank you too. It will have a safe, secure method to hold substrata in place and a nice little slot to hide it's raw edge. Everyone like tidy turf, right? Because the border has a low profile, it lets the plants, mulch, and artificial turf be the star of the show. You don't even see the border. And when it does rain, the border will hold mulch in place.
The plants win, the artificial turf wins, the property owner wins and the installer wins. Yeah, the installer wins because Wonder Edge is the artificial grass border that doesn't require trenching. It's the fastest artificial grass border you can install.