Artificial lawns make life easier. Spend more time enjoying the lawn and less time caring for the lawn. Well, that's the idea, right? What makes the best artificial lawn border if you want to keep with the low-maintenance theme?

Fabulous Flamingos Fail
Pink flamingos harken back to the '50s. Hence they add a spot of color and a ton of kitsch. But while flamingos may offer fashion, they fail as the best artificial lawn border.
First, flamingos are easy pickings for thieves. Especially the teenage kind. They don't mean harm and are generally just executing a prank or a dare. Either way, your flamingo border will eventually lose flock members to would-be felons.
Plastic flamingos fade in ultraviolet light. What's fabulous today might be faded next year. The whole idea of an artificial lawn is to make life easier. Replacing your flamingo border every 12 to 18 months represents work and an investment in plastic flamingos, not things that make your life easier.
Bender Board Bites (and Creeps)
Bender board gets the job of artificial lawn border more often than plastic flamingos, but that doesn't mean it does a good job.
Easy flex or other forms of bender board bites when it comes to installation. This type of artificial lawn border requires extensive trenching. Trenching requires backbreaking manual labor. And, too often the trench fails to be dug at the right depth for the edging. Only the rolled edge should be exposed. When the edging does in at the wrong depth, it creeps.
This edging started at the right depth and then just crept out of line. At the far left of the picture, the edging is properly in the trench. Now, compare this to the far right of the picture where almost the entire edging is exposed. What happened here?
Either someone got tired of digging the trench or the edge trench could not be dug due to the presence of water lines or some other utility. There's a better alternative to bender board when it comes to artificial lawn edging.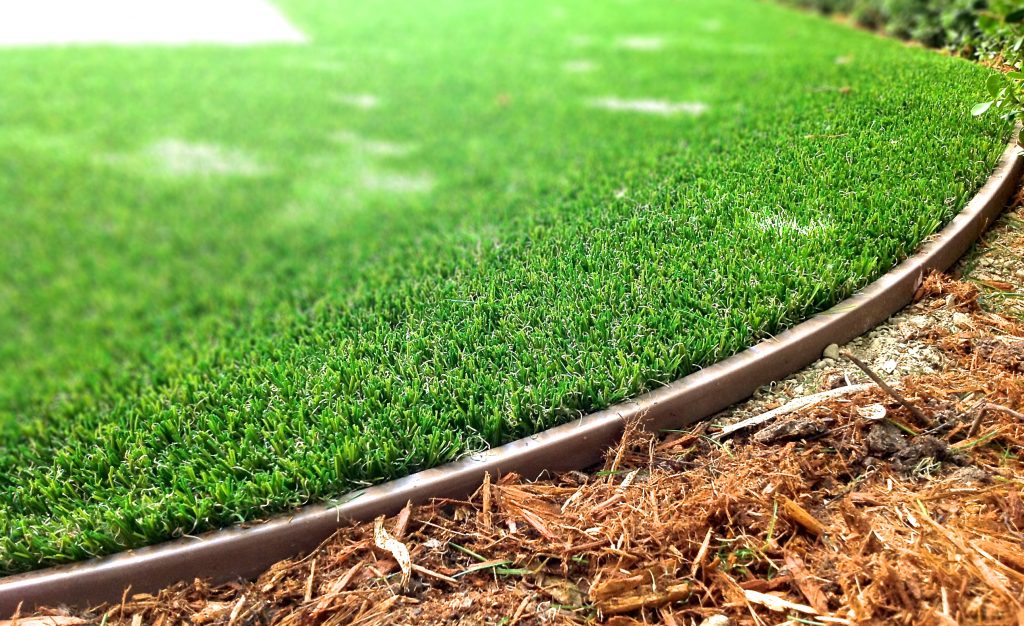 Wonder Edge Is the Most Wonderous Artificial Lawn Border
Wonder Edge makes the best artificial lawn border. Unlike plastic flamingos, Wonder Edge will never fade in the sun.
The material resists damage by ultraviolet light. Never worry about becoming brittle or fading. You won't need to replace this border every 12 to 18 months as you would your flock of flamingos.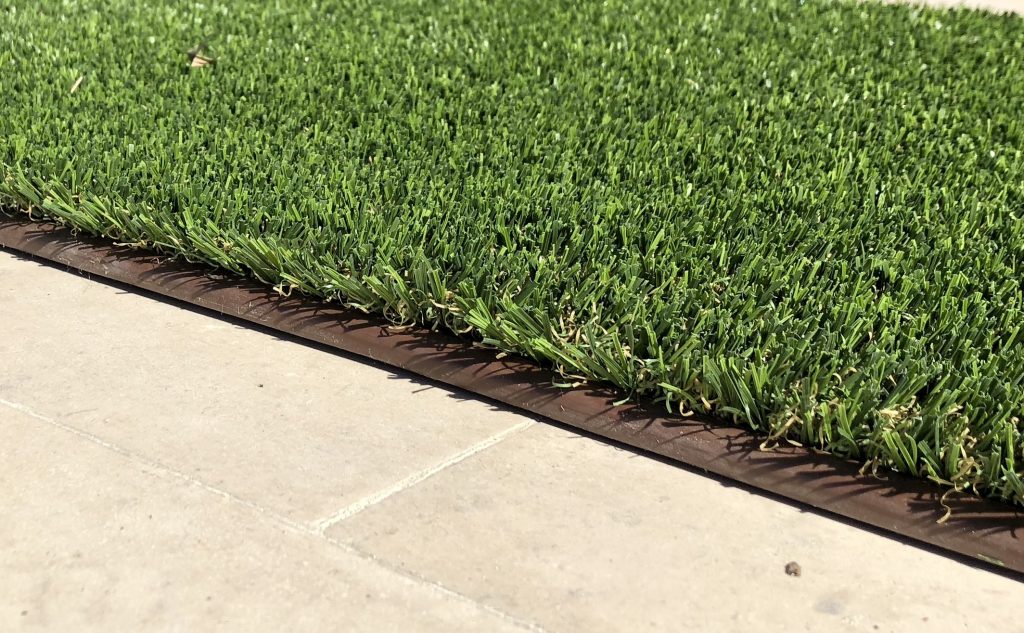 Wonder Edge also stays where you put it. And, better yet – it requires no digging and no trenching. This artificial lawn border goes down under the turf. Simply place the product along the edge of the installation, then roll, tape, and install the turf. Rough cut the edges and tuck under.
Wonder Edge stays in place with the turf nails you use on the turf.
Buy Wonder Edge where you purchase artificial lawn turf or order online.