Has your landscape ever had edge creep? It's that awful situation where traditional grass edging or bender board creeps up too high in sections creating an ugly, uneven and unclean look. No one likes edge creep, right?
It can have many root causes. And roots are just one cause. Others are improper installation or poor quality edging. The title image is a perfect example of edge creep. Here are a few more examples of edge creep, why it happens, and how to correct it.
Fake Grass Edging Installed Wrong
So one of the first reasons you get edge creep is because you install your fake grass edging improperly.
Notice how in this picture the edging goes from almost even with the turf edge to several inches above?
Not very attractive is it?
This type of fake grass edging is tough to install to begin with. You must dig a trench in which to insert the edging. And you've got to make sure that the trench is level.
If your trench isn't level, your edging won't be level.
The smallest amount of shift and your edging bulges.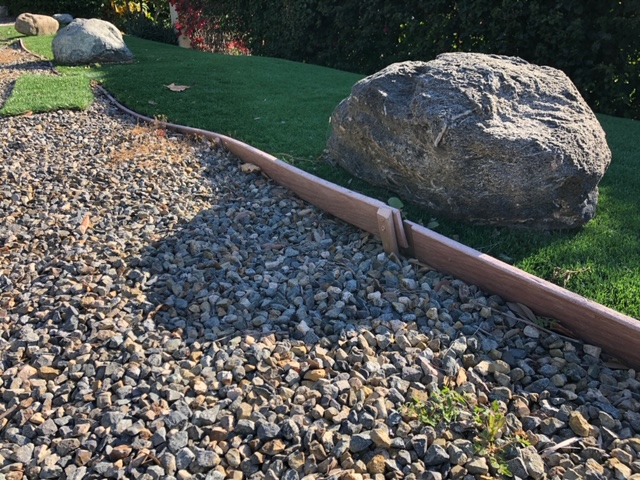 Not only is this edging not level, it wasn't even trenched to the proper depth to begin with. Chances are the substrate here was really tough or really rocky. When you give up on the shovel and even the pick axe won't do, you know you're in trouble. Had they installed Wonder Edge instead, the edging would have gone on top of the surface and provided a level, finished edge. No matter how long it's installed, it wouldn't have flopped over like this.
Now that artificial turf needs maintenance just to fix the border. And the whole idea of fake grass is to reduce maintenance. Talk about good edging going bad.
Wrong Product for the Job
Sometimes when it comes to edging fake grass, you just pick the wrong product for the job.
This is a nice turf installation as far as the turf goes.
There are some nice bushes in the bed too.
They deserve better than the exposed edging they must endure.
The black edging might have been fine for a real turf lawn of turf type fescue or St. Augustine. But it's the wrong product for this artificial turf. It can't hold the turf in place.
And even if it could, it's not installed properly. Once again, instead of trenching so only the rolled top is exposed, the entire edging is exposed. It lacks stability. It's not a matter of whether it will fail, it's just  a question of when it will fail.
And there's no happy ending for this fake grass edging.
Look how it was angle cut, set on top of the turf and doesn't even meet the concrete curb cleanly.
Not only is this an eyesore, it's a tripping hazard.
This edging needs to be ripped out and replaced with Wonder Edge for a clean edge that will hold the turf in place, look great, and not present a tripping hazard
Wonder Edge Isn't a Creep
When you finish with Wonder Edge you won't get stuck with a creep. It doesn't require trenching so heaving isn't a problem.
Nail down Wonder Edge with your artificial turf and your edging will stay in place as the ground heaves with freezing and thawing. That's because it starts on the surface and stays on the surface.
Of course all that time and effort spent digging trenches is saved as well.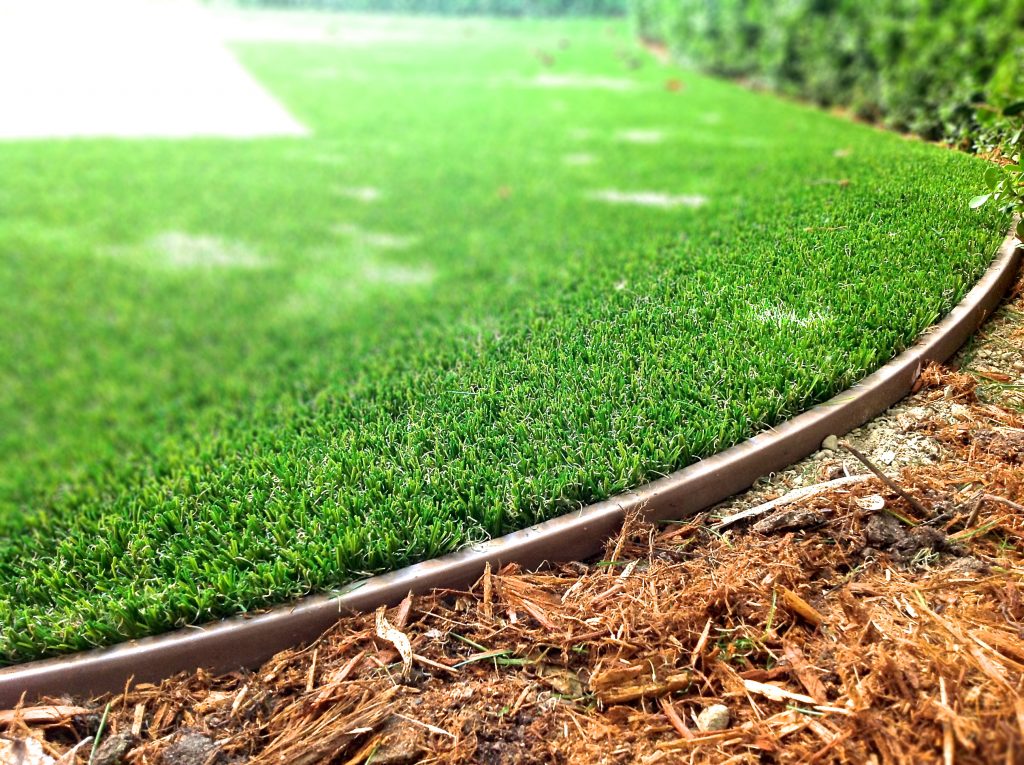 Just compare the finish on this Wonder Edge to those creeps above. It's no wonder Wonder Edge is the superior fake grass edging product. It stays in place, installs quickly, and looks great.